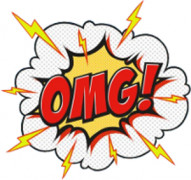 OMG! Was für Kreationen!
Der Spitzenhersteller The Ace of Vapez hat wieder einmal Alles gegeben und die OMG! Serie auf den Markt gebracht. Fruchtige Nuancen treffen auf spritzig-prickelnde, cremige und süße Noten und werden perfekt abgerundet. Der Vaper erlebt ein explosionsartiges Erlebnis mit tiefer Aromenvielfalt.
Dank des Mischverhältnisses stimmt auch das Verhältnis von Geschmack und Dampf!